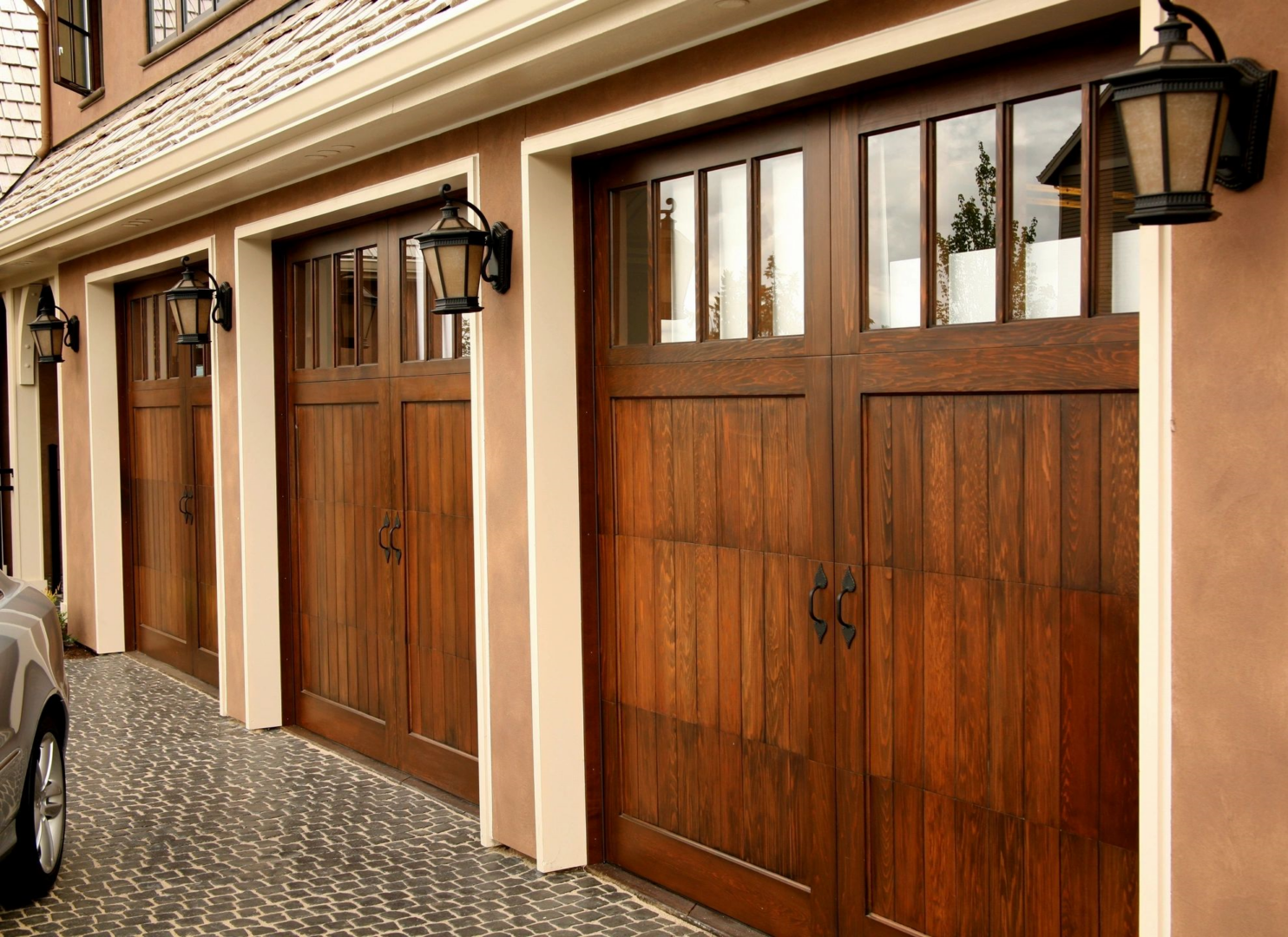 Custom & Wood Garage Doors: Wood has a natural beauty, is very versatile, and operates quietly. It may be painted or stained and is available in a wide price range. If you choose a wood door, you should plan to spend some time maintaining it. Wood garage doors are and can be fully customized to your needs. Custom garage doors are available in any size and type of wood; including cedar, hemlock & mahogany.
Vinyl Garage Doors are becoming more popular because they look good forever. They are scratch resilient, won't rust, warp or crack and are nearly impossible to dent. They come insulated and tend to work more quietly. A vinyl door requires no maintenance and is going to look good for a very long time. People are willing to invest a little more money in vinyl because it is likely to be the last garage door, you will buy.
Steel Garage Doors are the most popular door. They are durable, attractive and virtually maintenance free. Steel Doors can also be very well insulated to keep out the cold and lower energy costs. Steel doors are the least expensive garage door you can buy. The downside is that if they dent or scratch, they are difficult to repair.
Wood Composite Garage Doors are in the price range between steel & vinyl. They come primed and ready to paint with a limited lifetime warranty. People buy wood-composite primarily for 3 reasons: the main reason is because when it comes to painting it is easily customized to fit into your home's color scheme. The second is that once it is painted it does not require the maintenance a wood door will. Nor will it crack, split, swell or warp like wood can. And lastly, this environmentally friendly door is made mostly from recycled material so it is the "greenest of garage doors."
Find the Style That Fits Your Taste
Style is largely a matter of preference. You will need to decide between recessed or raised panel and carriage house style doors.
Raised Panel is the most popular style sold today.
Recessed Panel Garage Doors are the ones we remember growing up that EVERYONE had. Well, retro is back, and manufacturers are beginning to revive the style to satisfy consumer demand.
Carriage House Style Doors are more expensive than the other options but can have a dramatic effect on the exterior of any home. So much so, that real estate studies have shown them to increase the value of a home.
C&D General Contractors provides residential and commercial garage door sales, installation, services and repairs. Our highly qualified staff specializes in same day service and after-hour accommodations. We also guarantee 100% satisfaction on both parts and services.
We can show you examples and walk you through the entire process. Our reputation was built on great customer service. Fill out the contact form or give us a call to schedule your free inspection and estimate. We are looking forward to working with you.